DESCRIPTION
AN EVENT OF SWIMMING IN OPEN SEA, SENSATIONS GUARANTEED!

The swim start is given on the famous sandy beach of Deauville, with its colorful umbrellas. Expect a water temperature between 16 and 20 degrees as well as currents that shook a little. Note that the swim will be launched at high tide and an exit at the Australian is scheduled, a 300m loop swim perform once.

A POST CARD OF NORMANDY, BETWEEN LAND AND SEA

Our cycle route allow you to discover the most beautiful landscapes of Normandy: thatched cottages, stud farms, lush meadows, crossing 9 augerons typical villages, sweeping views of the sea … But beware, our journey is not a health walk. The 23km loop is very technical and while recovery.

RUN ON THE MYTHICAL BOARDS DEAUVILLE

Consisting of 1 loop of 5.250 km, the running course triathletes take on legendary Deauville boards that will be covered in their entirety. The finish line is on the avenue Lucien Barrière such stars!
TARIFS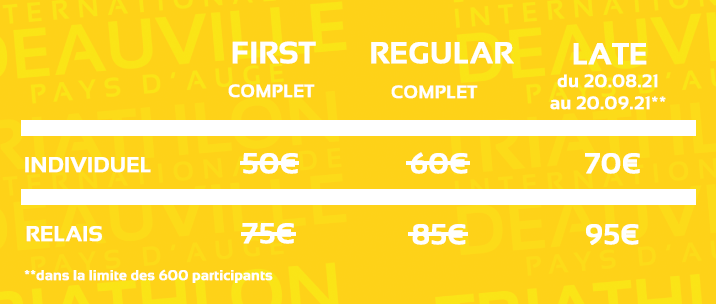 Non-Licensed : The unlicensed triathletes triathlon federation (ITU or equivalent: http://www.triathlon.org/federations) must purchase a pass to the Competition FFTRI in the amount of €5 (for the individual race) and €2 for the relay – payable on the registration platform. You can have more information by clicking here FAQ.
EXCHANGE OF BIBS
The resale of bibs is possible only if the race is full (except relay). As last year, you can therefore resell your bib to another triathlete in just a few clicks. If the event is not complete, you can transfer your bib to a friend.
In order to resell your bib (if the race is complete) or to transfer it to a friend you can contact us directly by email: contact@triathlondeauville.com.
CANCELLATION POLICY
You are able to subscribe to a cancellation assurance for the adults races (Full Distance, Long Distance, Olympic Distance, 750 Olympic Distance and Sprint Triathlon). You must subscribe to the assurance during your registration.
For more information please consult our FAQ.
No refund can be requested from the organization.
TRIATHLETE PACK
Your registration Triathlon International de Deauville
A swimming cap
A "finisher" medal
A "finisher" tee-shirt
Aid station during your bike and swim routes
Feeding station and chill zone at the end of your race
And several free services such as : toilets, showers, left luggages and massages.
RULES
The race is subject to the Federal General Regulation of the FFTRI, available here.
The rules of the race are available for consultation by clicking here.