The routes of the 9th edition of the Deauville International Triathlon are now available on our website. This year again we have some news. After analysis of the satisfaction survey, we have taken into account some of your requests and we want to implement your remarks.
REDESIGN OF THE RUNNING ROUTES
After analysing of the satisfaction survey and the feedbacks from our race managers, we have tried to respond as best as we could to the remarks in order to guarantee you a safe race. In order to improve the fluidity during the events and to optimize your experience as a triathlete, we have redesigned the running course for each races.
Initially, we have made the routes more linear by reducing the number of turns in the Lais de Mer park in Deauville, this will avoid a large number of restarts and therefore have a more stable speed. We have also eliminated the roundabout on the dyke at the Marinas Port. And finally, good news, for the triathletes and spectators, we have extened the finish area. Therefore the installed platform will allow you to run between the stands and take full advantage of the encouragement of your friends and family, but also to reduce the running area in the sand by 50m (per lap).
We don't forget the attendants and tourists who come more and more to Trideauville. We will add animations on the finish line to allow the spectators to encourage their triathletes in the best conditions.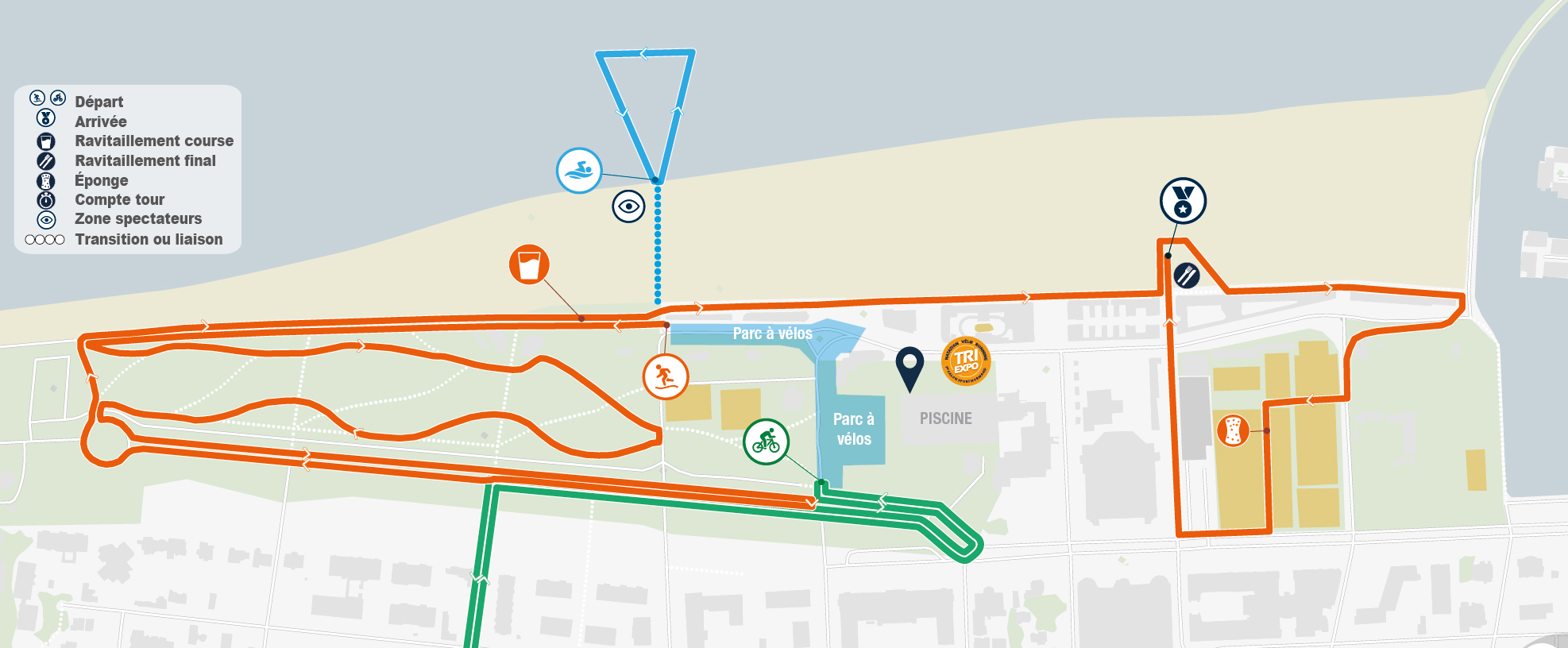 SOME NEWS ON THE BIKE ROUTES FOR TWO RACES
LONG DISTANCE – LEPAPE
As you already know, this year the Long Distance – Lepape cycling route has changed. The distance to cover by bike will be 90km instead of 85km last year. There will be a 45km loop, to be done twice.
Thanks to this modification, participants will have the chance to make their half-turn in the fabulous setting of the "Haras Quesnay", located in Vauville.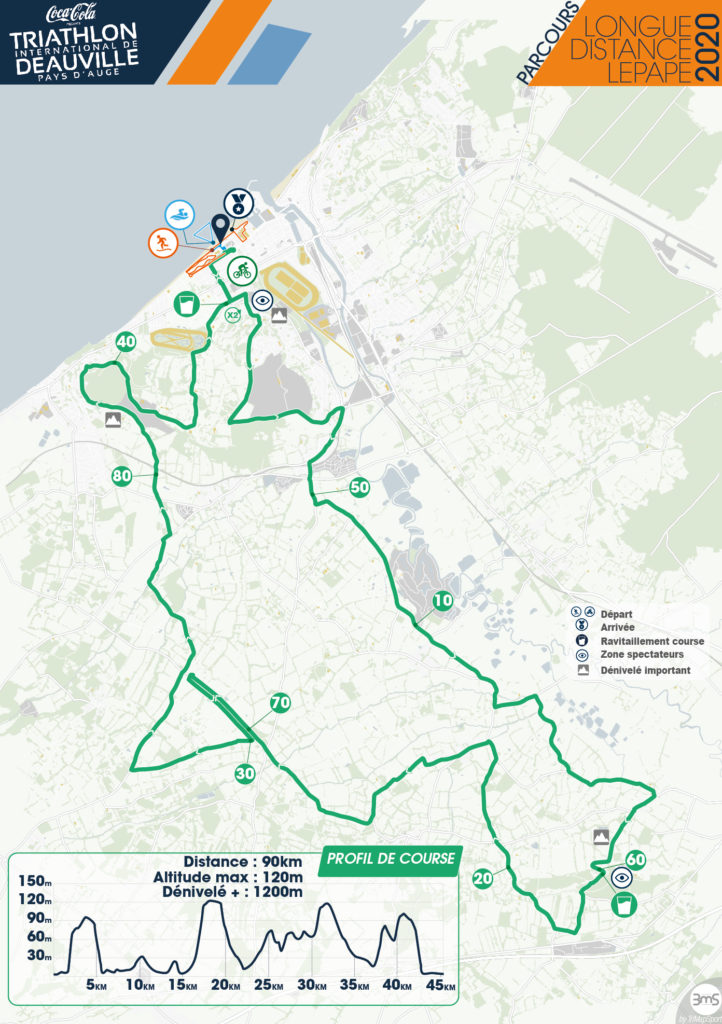 DO750 – CARREFOUR MARKET
Following your feedback on the cycling routes, the second change will concern the DO750 – Carrefour Market race. Indeed, for safety and fluidity reasons during your race, the organizing team has decided to modify the route and remove the passage through the Saint Laurent coast. Then the cyclists will bypass this difficulty via Strassburger Avenue, then Saint-Arnoult.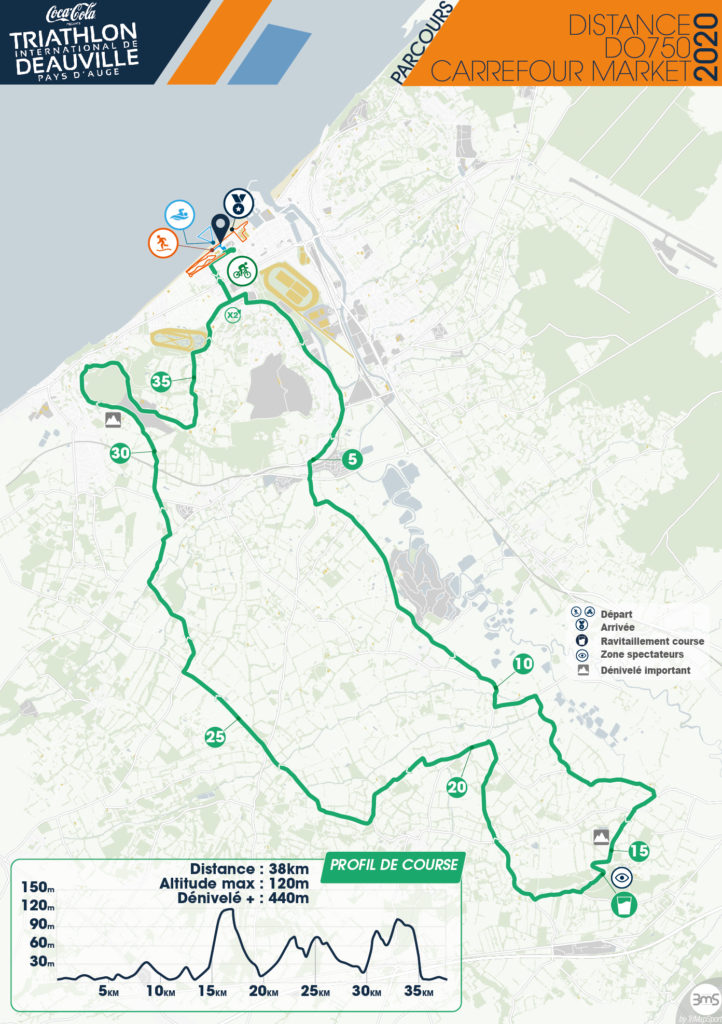 There is no change for the swimming portion of the races. If you have already participated you already know the route, so no trap for you!
You have never participated or you want to know more about the routes changes? Find the interactive map of your event which will allow you to dive into your race right now and prepare it in the best conditions. You can also download your course in JPG and GPX format.
Please note that we have also updated the train schedules so that you don't get stuck!

©Activ'images